Say goodbye to Diacetyl!
Maturex Pro is an Acetolactate-decarboxylase (ALDC) enzyme which is dosed in the beginning of fermentation to eliminate/reduce the precursors of VDK and Diacetyl, which ultimately saves time and money for the maturation process through higher capacity utilization and allows for lower energy consumption.
Benefits include:
Prevents the formation of diacetyl and 2,3-pentanedione in beer (butter off-flavor)
Shorter maturation time leading up to higher-capacity utilization
Eliminate diacetyl rests
Reduce/eliminate Dry Hop Creep
Leaner process conditions for low-alcohol beers
The shelf life/best before date for Maturex Pro is 28th of August, 2021.
Remember to store the product between 32 - 50 Fahrenheit (0 - 10 celcius degree), as soon as you receive your product to maintain its shelf life.
We ship all products with UPS Next Day Air. This option is used to minimize the time that the product is at ambient temperature in order to maintain product integrity.  
How do I add Maturex pro?
Maturex® pro is dosed into the cold wort in the fermenting cellar at the beginning of the fermentation process.
● It is important that Maturex® pro be present in the wort at the same time as yeast in order to maximize
diacetyl prevention
● The recommended dosage is 1–2 g/hl cold wort
● In some cases, a higher dosage may be required
● The optimal dosage is reached when diacetyl levels are below the flavor threshold at the end of
fermentation

Maturex® pro interacts with its environment, so the results are not only pH- and temperature-dependent, but also linked to yeast strain, wort composition and original gravity, therefore, each application needs to be individually optimized.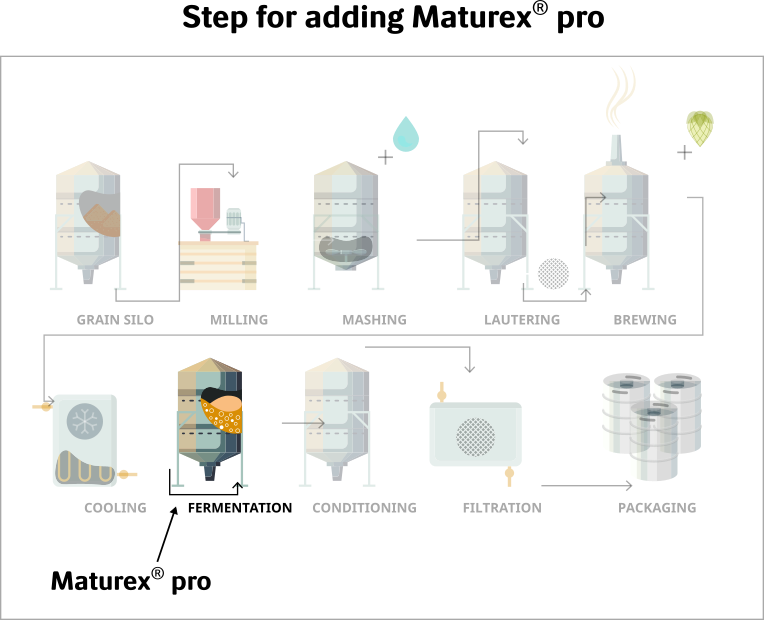 Get advice on how you can get rid of Diacetyl