Traditionally, barley is used as the raw material for the production of beer. Today, breakthrough technology is making brewing more diverse than ever before with the use of enzymes. Enzymes are needed to digest cell walls, release amino acids, and breakdown starch into fermentable sugars.
Ondea® Pro is a multi-enzyme blend formulated to secure efficient viscosity, turbidity reduction, protein degradation, and controlled attenuation. With 6 different enzyme activities, the brewing possibilities are unlimited with the use of Ondea® Pro. Ondea® Pro can be used to take the guesswork out of your brewing, whether you would like to brew traditionally to improve your brewing process, use high adjuncts, brew a gluten free beer, or brew with raw barley or a new raw material altogether to cut costs and/or create new flavors. The horizon is wide open when you choose to brew with Ondea® Pro!!!
Benefits of using Ondea® Pro:
Higher extract yield

Efficient wort and beer filtration

Control of FAN (free amino nitrogen) and fermentability

Improve foam stability and body

High adjunct decoction is possible

High Gravity Brewing with up to 26°P (first wort) is possible

Production of high-quality beer

Enables the use of unmalted barley

Flexible sourcing of raw materials

Recommended Dosing Parameters:
0.55g – 1g/lb of Grist/Barley
0.73g - 1.46g/lb of Grist for Gluten Free Brewing
(Dosage depends on malt quality, adjunct ratio, and type of raw material)
Dose can be calculated to be added by volume.
Ondea

®

Pro Density: 1.21 g/ml
(Eg: 100g / 1.21g/ml = 82.7mL)
After determining your dose from above, Ondea® Pro should be added during Mash-In, starting when around one-third of the grist has been loaded into the mash tun.
Product should always be stored between 0-10°C (32-50°F), when not being used.
(Prolonged exposure to higher temperature reduces the product's declared shelf life.)
Can you make a high quality beer with barley?
Brewers and independent taste panels recognize that barley beer made with Ondea Pro have
similar scores as normal high quality beer, making it suitable for blending with conventional
beers. Demonstrating that most types of beers can be made based on Ondea brewing.
An example with Ondea pilsner demonstrates similar composition to a malt based pilsner with respect to Plato, alcohol, haze, pH, gravity, CO2, foam, RDF, etc. – and, most importantly, similar taste, as illustrated in below figure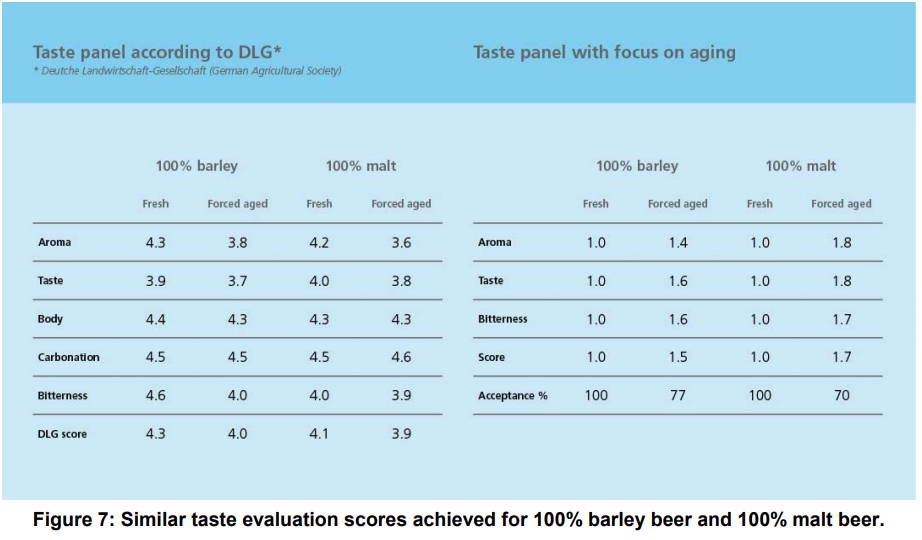 For more info, read click here to see full report
Will Ondea Pro change the flavour of my beer?
No, it does not change the flavour of the beer. In fact, the use of Ondea Pro can potentially reduce off-flavours related to brewing with high amounts of barley.
Quotes from a Novozymes report "100% barley brewing - experiences with Novozymes Ondea® Pro"
"The first 100% barley beers were very light in taste in order to show that the Ondea
brewing concept did not give rise to any off-flavours normally associated with traditional brewing
with high barley inclusion. Any beer type can be made using Ondea brewing by simply
exchanging the barley pilsner-type malt with raw barley and Ondea Pro."
"The success of the Ondea brewing concept is tightly linked to the question: "Can you make
good beer without malt?" Our experience, based on a busy year and more than 100 trials with
Ondea Pro, gives rise to a clear and distinct YES in answer to this question. The quality of the
100% barley beer based on Ondea brewing has impressed the brewers. "Surprisingly good" –
"tastes like normal beer" –"no off-flavours" have been some of the most frequent comments we
have heard."
What is the delivery time?
Delivery time is 3-5 work days. All orders are shipped viavia UPS ground / UPS 3 Day select after processing. (whichever option is fastest) This option is used to minimize the time that the product is at ambient temperature in order to maintain product integrity.
How long is the shelf life?
The shelf life/best before date for Ondea Pro is 15th of September, 2021.
Remember to store the product between 32 - 50 Fahrenheit (0 - 10 celcius degree), as soon as you receive your product to maintain its shelf life.
We ship all products with UPS Next Day Air. This option is used to minimize the time that the product is at ambient temperature in order to maintain product integrity/keep its shelf life.  
Ondea® pro is added during the mashing step. The enzyme is added after the mash tun is about 1/4 filled, but it does not need to be precise. The most important is that there are some liquid in the mash tun before you add Ondea® pro, so the enzymes can be evenly distributed, and does not get stuck in the bottom.
When you pour Ondea® pro into the mash tun, add the liquid slowly to get an even distribution.
What other people say about Ondea Pro in articles
"In summary, this investigation demonstrates that the Ondea Pro barley brewing system is capable of efficiently producing high quality wort, in most respects comparable to traditional malt brewing"
Article in Journal of the American Society of Brewing Chemists · January 2014

, The influence of malt quality on malt brewing and barley quality on barley brewing with ondea pro, compared by small-scale analysis
"Ondea Pro® and malt, resulted in higher extract levels than were observed for reference mashing, using either 100% malt reference or 100% barley reference and Ondea Pro® enzymes. Synergistic mashing effects between barley, Ondea Pro® and malt were observed for mash quality and efficiency parameters, particularly wort fermentability."
Published online in Wiley Online Library · 27 April 2016

, Comparison of the impact on the performance of small-scale mashing with different proportions of unmalted barley, Ondea Pro®, malt and rice
Get advice on how you can improve your brewing