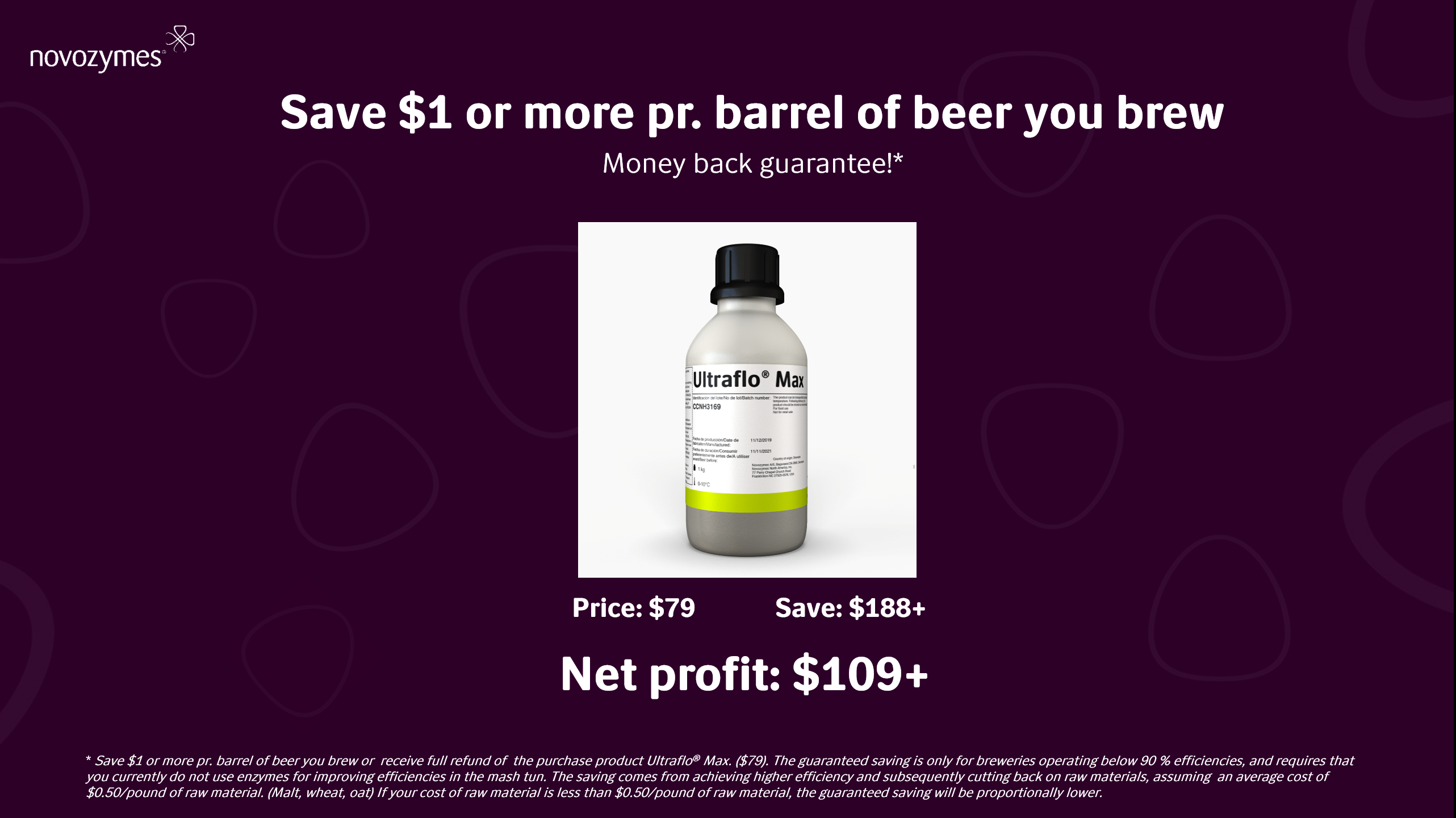 Ultraflo Max is a high-performing blend of β-glucanase and a arabinoxylanase that makes it possible to degrade both major cell wall components to ensure minimum viscosity and get the best wort separation and beer filtration. This enzyme blend will break down β-glucans and arabinoxylans into non-viscous polysaccharides and thus increasing extract run off of a more concentrated wort.
Benefits of using Ultraflo Max:
Increase brew house efficiency and save on material

costs

Consistent and high-speed wort filtration

Consistently increase brew house capacity

Avoid stuck mashes

Helps to reduce or eliminate production variations due to varying quality of raw materials

Maximize flexibility of mashing temperature profile

Helps to increase yields during High/Very High Gravity Brewing

Minimize brew house and beer filtration capacity cost
Recommended Dosing Parameters:
Dose in weight: 0.090 gram/lb of grain
Dose in volume: 0.077 ml/lb grain
(Density of Ultraflo Max is 1.18 g/ml)
Example: 
For 10 bbl brew using 600 lbs of grain you should dose in:
0.090g/lb * 600lbs = 54 grams of Ultraflo Max
(dose by volume:
54(g)/1.18(g/mL) = 45.76 mL)
Note:
Ultraflo Max can be overdosed, resulting in a collapsed bed, which can reduce efficiency and lead to stuck mashes. We recommend a starting point of 0.090 gram/lbs of grain on your first batch, before you begin experimenting with dosing.
Dosage depends on malt quality, adjunct ratio, and type of raw material, so it may require some experimentation.
For high amount of adjunct you may increase the dose of Ultraflo Max by 10-30 %.

If you have low quality malt you may need to increase the dose by 10-20 %.
Click below to use the dosing calculator to calculate how much Ultraflo Max you should add
After determining your dose from above, Ultraflo Max should be added during Mash-In, starting when around one-third of the grist has been loaded into the mash tun.
Ultraflo Max is a concentrated product and when used properly, cannot only provide you with the added benefits listed above, but it can save you money too. Below is a

calculated

Cost/BBL, based on an average brewing recipe, where Ultraflo Max is dosed at the highest recommended dose based on Malt to achieve a final beer of ~6.5% ABV. These values do not take into account any added benefits, such as cost savings, and illustrates that this product will pay for itself.
1.1 lb (500g) at $49:
Cost/BBL = $0.44/bbl

Produces ~113 bbl of beer
2.2 lb (1000g) at $79:
Cost/BBL = $0.35/bbl

Produces ~227 bbl of beer
Disclaimer: These Cost/BBL values are calculated are based on a standard brewed beer and in no way represents actual values received from the use of this product. Actual values may differ from the calculated values displayed here and thus, are solely used for informational purposes only. Novozymes cannot guarantee the Cost/BBL values received using this product matching the values here, due to the variables associated with the brewing process and will have to be optimized for your individual brewing process.  
Optimum pH and Temperature
The optimal working conditions for the Ultraflo Max:
Temperature range: 45°C - 70°C (113°F - 158°F)
pH range: 4.0–6.5.
Product should always be stored between 0-10°C (32-50°F), when not being used.
(Prolonged exposure to higher temperature reduces the product's declared shelf life.)
Can I reduce my Mash or Lautering time using Ultraflo Max?
A time reduction in mashing and/or lautering can possibly be achieved through optimizing the dose of your particular recipe and through monitoring the extraction rates during the mash. We have had customers decreasing their mashing time from 120 to 90 min, while keeping the same efficiency.
How does Ultraflo Max work in the mash?
Ultraflo Max is made up of a β-glucanase and an arabinoxylanase, which makes it possible to degrade unmodified cell wall components of malted barley into non-viscous polysaccharides, resulting in a reduction of viscosity and thus significantly improving beer filtration. Ultraflo Max provides far better performance than even the best well-modified malt, especially for beer filtration.  
Will Ultraflo Max change the taste of my beer?
Ultraflo Max will not change the flavor of your beer. The main benefit of using Ultraflo Max is an increase in brewhouse efficiency. With this increase in efficiency, the mash extraction of sugars will be more concentrated and therefore will have to be optimized for your brewing process. It is recommended to measure your extraction rates during the mash in order to align your sugar profiles batch to batch and reduce your raw materials as needed to maintain the same extraction rates.
Are there concerns around using Ultraflo Max?
Ultraflo Max is known for its performance and added benefits, such as increased efficiency, and there should be no concerns when using Ultraflo Max as long as the recommended dosing parameters are followed. The only concern for Ultraflo Max around not following these recommendations is, it can be overdosed which can lead to a collapsed mash bed due to over degrading the cell walls in the malt and leading to poor circulation and possible stuck mashes.
What is the delivery time?
Delivery time is 4-5 work days. All orders are shipped via UPS ground / UPS 3 Day select after processing. (Whicever is fastest) This option is used to minimize the time that the product is at ambient temperature in order to maintain product integrity.  
We recommend that you order your product at least 14 days before you schedule your brewing with the enzyme, in case of delays
The shelf life/best before date for Ultraflo Max is 11th of November, 2021.
Remember to store the product between 32 - 50 Fahrenheit (0 - 10 celcius degree), as soon as you receive your product to maintain its shelf life.
We ship all products with UPS Next Day Air. This option is used to minimize the time that the product is at ambient temperature in order to maintain product integrity.  
How do I add Ultraflo Max?
Ultraflo Max is added during the mashing step. The enzyme is added after the mash tun is about 1/3 filled, but it does not need to be precise. The most important is that there are some liquid in the mash tun before you add Ultraflo Max, so the enzymes can be evenly distributed, and does not get stuck in the bottom.
When you pour Ultraflo Max into the mash tun, add the liquid slowly to get an even distribution.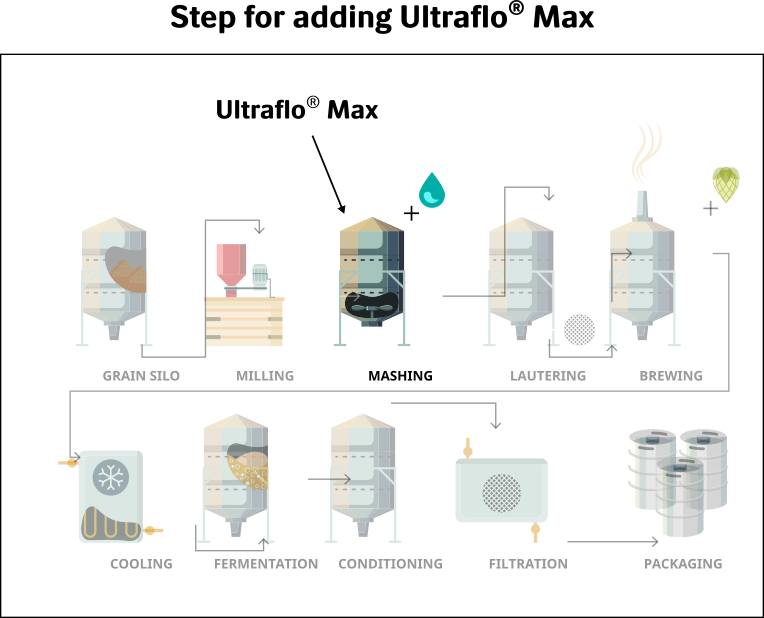 Will Ultraflo Max affect the haze in NEIPAs?
No, Ultraflo Max is a cellulase blend that works on breaking down beta-glucans and arabino-xylans and will not affect the proteins that contribute to the haze found in NEIPAs.
Will Ultraflo Max affect fermentation/attenuation?
No, Ultraflo Max works to breakdown unmodified cell walls to decrease wort viscosity and in doing so exposes more accessible sugars in the mash and can increase the specific gravity of the wort. Ultraflo Max will not affect attenuation or cause the fermentation to finish dry.
Videos about Ultraflo Max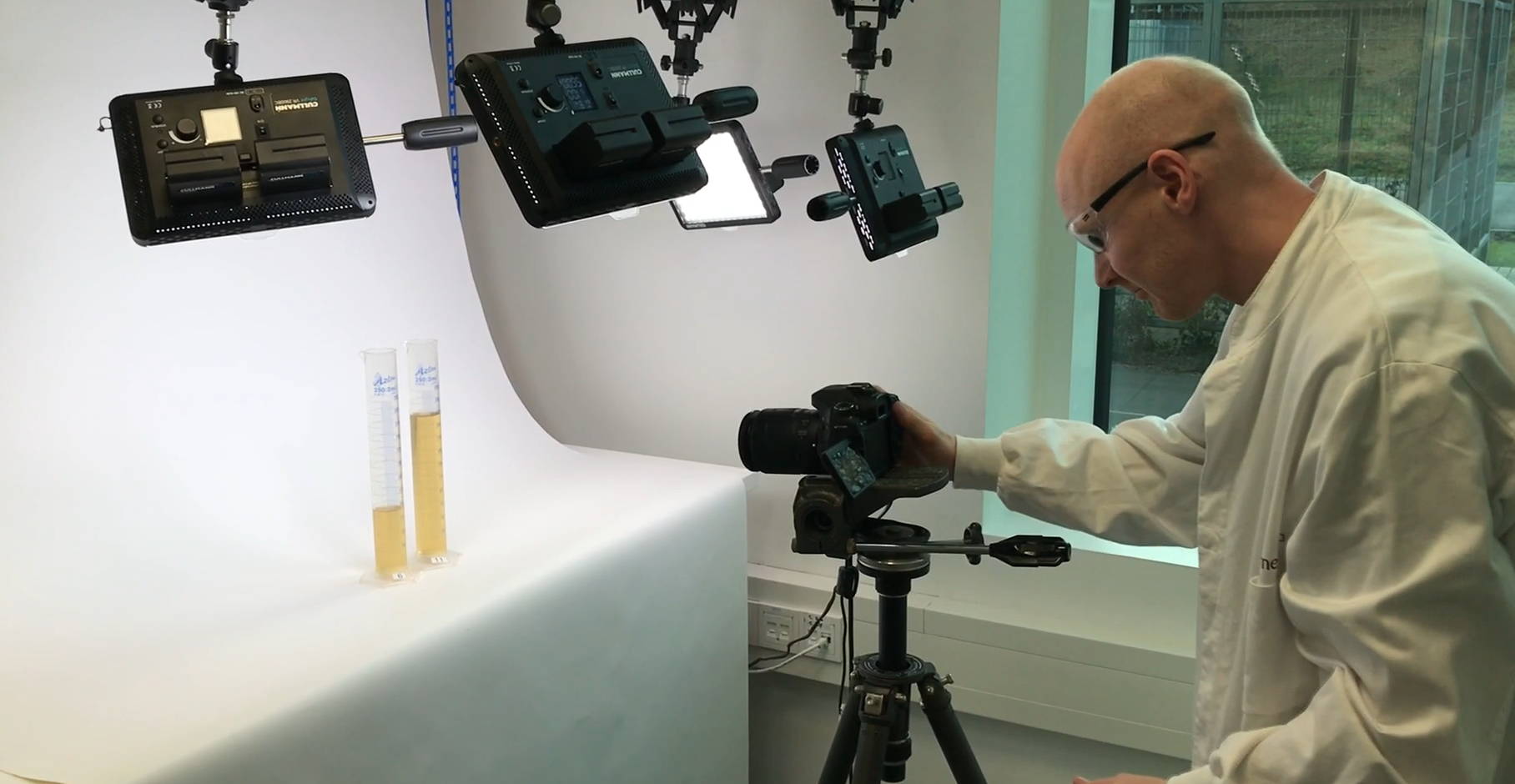 Lab experiment with Ultraflo Max
Read our blog with testing of enzymes for getting better wort separation.
With the use of Ultraflo Max it was possible to achieve:
+40 % faster filtration

+89 % reduction of β-glucan
What other people say about Ultraflo Max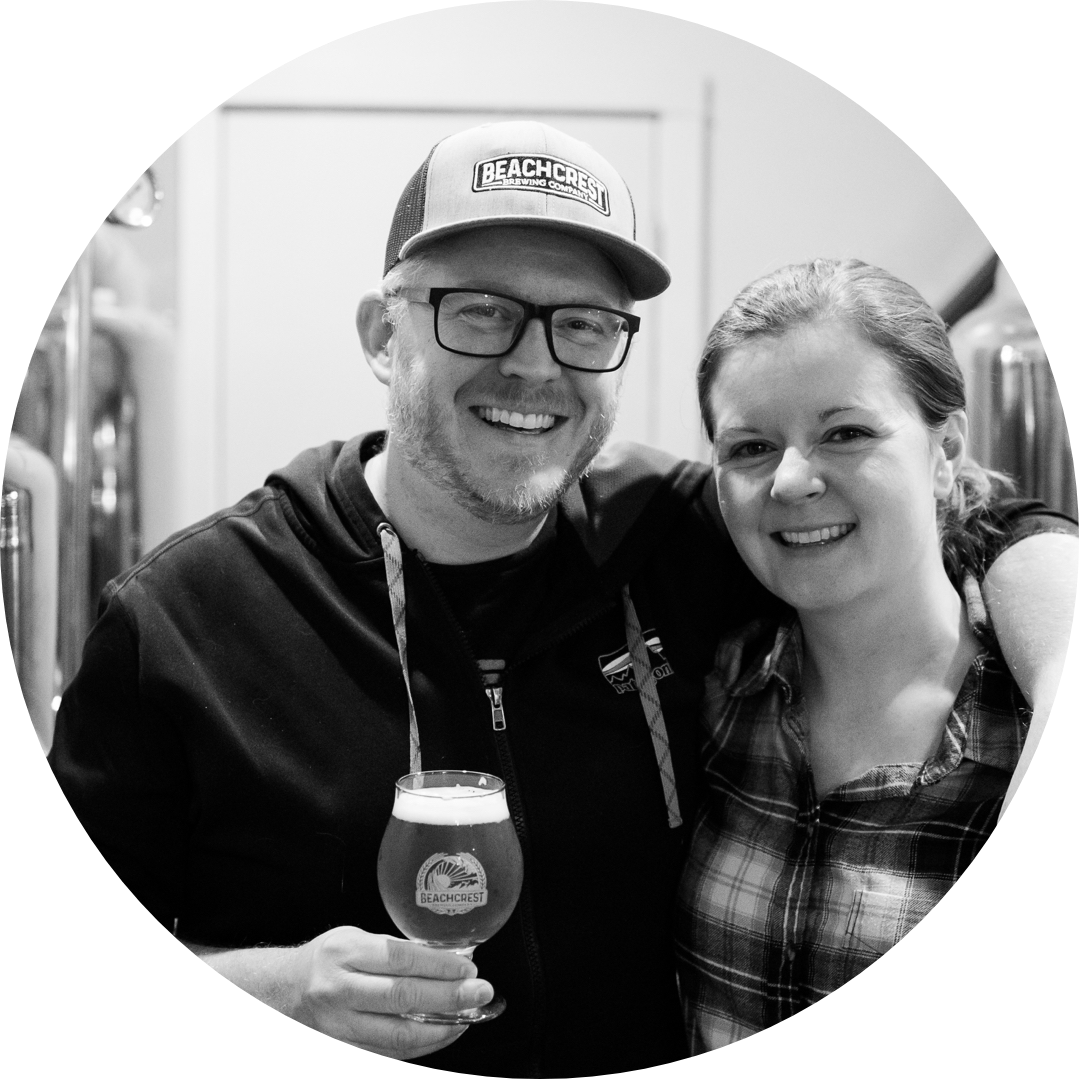 "I've now used Maturex and Ultraflo in a few beers and I've been very impressed with the results. ... I've also brewed several times with Ultraflow max. It really helped with a high wheat beer (a gose) and now that I've got the dosage right, it helps pretty significantly with my New England IPAs (pretty wheat and oat heavy). So, cheers to you all at brewingwithenzymes, I'm a pretty happy brewer over here."
6.30.2020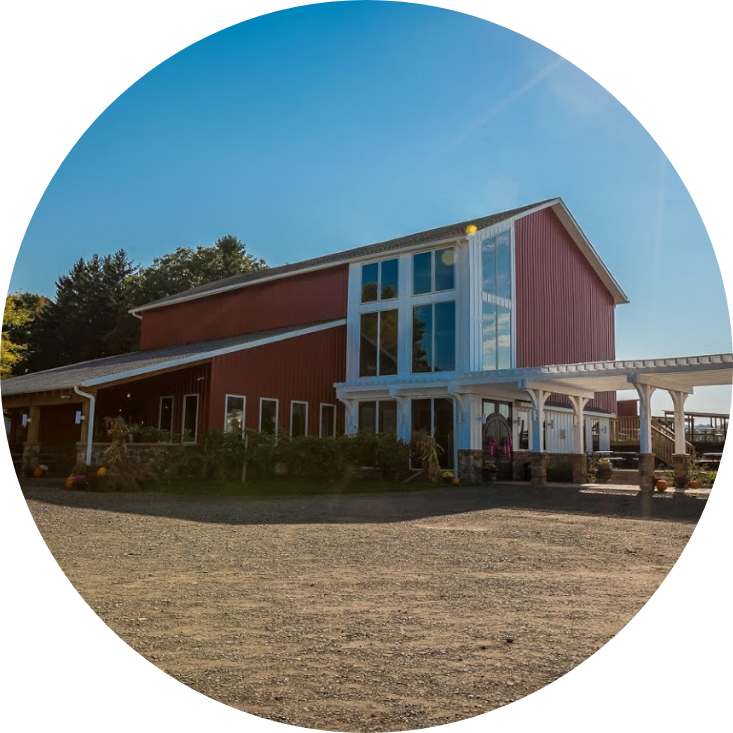 "First time using it today and we raised the efficiency by 6% which is awesome. I'm sure we'll be ordering in the near future. We appreciate your help!"
08.12.2020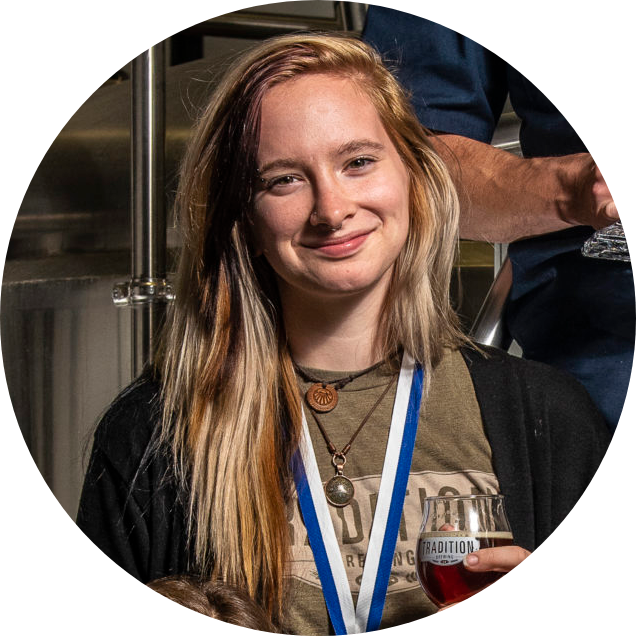 "Ultraflo Max has exceeded all of our expectations. We have increased our average brew house efficiency from ~75% to ~91% since using this product. It has become a MUST have during brew days!"
08.25.2020
Full satisfaction - 100 days trial
We are confident that you will be thrilled with our enzymes, and see a significant benefit to your brewing. That is why we offer an extended 100 days trial on all of our enzymes products. If you are not 100% satisfied with your purchase, you can return the product and get a full refund of your purchase price - shipping included!
Get advice on how you can improve your brewing